Easter is about a lot of things. It is about God, family, church, and loving one another. Happy Easter!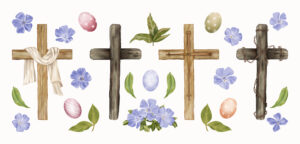 First it is about Jesus Christ. Jesus is our Savior, our Lord and King. We love Him. We serve Him. We try to be like Him.
We are thankful to God, the Father, for allowing His Son to suffer for us and die for us on the cross. Because of the sacrifice of Jesus, we will all live again.
We can overcome sin by following Jesus. We can be forgiven of our sins and mistakes. We can also give up feeling bad about our past mistakes.
We can overcome the shame and sadness caused by our own mistakes and the sins of others. We can let Jesus heal us of the sins and wounds of the world.
Jesus can bring us eternal peace if we trust in Him. That is how we can get rid of the conflict within our own souls. We can let go of our troubled hearts. Jesus also felt troubled and overcame the world.
I know Jesus is the Christ, the Son of God. I know Jesus is resurrected. I know Jesus loves you very much. When you feel sad, He feels your sorrow too. We look forward to the Easter message which is eternal hope through God.
Homeschoolers/Educators/Parents/Devotionals: Sketch/color an illustration. Read the story called "Jesus is Resurrected" in Learning to Read: New Testament Stories. Write about Jesus. Explain why Easter is special to you. (Skillset: creativity, comprehension, application)