Do you know the definition for the New Word of the Day which is "Lunar New Year?"
Pronounced: [lü-nər nü yir]
The word lunar refers to a moon. New refers to latest. Year refers to 365 days. Thus, Lunar New Year means the celebration of the new year in the Chinese calendar. February 12, 2021 is the year of the ox. Fireworks and firecrackers are a traditional element of Chinese New Year celebrations. In addition, other celebrations include: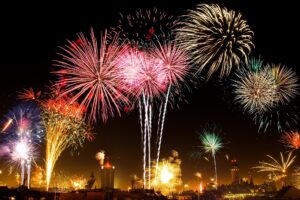 End of winter
Beginning of spring
Honoring of deities
Honoring of ancestors
Annual family reunion dinner
Decoration of windows and doors with red paper-cuts and couplets
Popular themes of good fortune or happiness, wealth, and longevity
So, Homeschoolers: sketch an illustration and describe what the 'Lunar New Year' means to you.