Power outages are not fun, but we can learn from them. Let's have fun exploring a useful site called poweroutages.us. We can learn how to track where the outages are in each region of the country. You can develop reading, map and math charting skills by analyzing power outages. You will need paper, pencil, and coloring pencils. See below: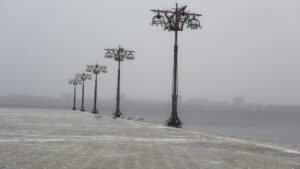 Sketch a map of the United States. Next, create a map

legend

by writing the number of outages in each corresponding color.
Power Outages US – Write the name of each state that has a yellow, orange or red color. Color the state and write the number of outages.
Electric providers – Click on each state and write the name of at least one of the electric providers.
Region's Area – Click on the region's area and list the top region for the most outages and the lowest region for the least outages.
About Major Events – go the major event's section and list some of the events that have caused power outages.
FAQ – go to the frequently asked questions section and thank or ask the creator of the site for any additional questions.
Homeschoolers: Adapt assignment as needed. Explain what you have learned and how power outages affect people.