The recent ransomware attack is no laughing matter. It has shut down one of the largest refined products pipelines in the United States. A growing number of drivers are trying desperately to find gas for their vehicles in North Carolina. Governor Cooper has now declared a state of emergency. Here are the other important facts in this developing story:
A ransomware attack is extortion software that locks your computer until you pay a ransom for its release
The criminal gang known as "DarkSide" shut down the pipeline
The cyber attack hit Colonial Pipeline, which carries gasoline, diesel and jet fuel from Texas to New York
Colonial Pipeline moves about 45% of all fuel consumed on the East Coast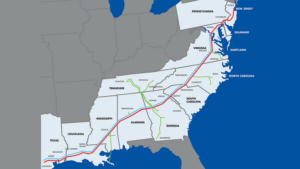 The Georgia-based company transports more than 100 million gallons, or 2.5 million barrels of fuel daily for consumers and for the U.S. military through its pipeline system
Latest statewide numbers for gas stations without gasoline as of 6am CT according to GasBuddy data. GA 4.0% AL 0.4% TN 0.02% SC 1.9% NC 5.6% FL 2.5% VA 7.8%
The gas station in Robbinsville is all out of gas. Clerk said manager told her it could be five days before they have gas again. Says phone has been ringing off the hook of people calling around to find gas
Homeschoolers: Sketch/color an illustration. Explain the pipeline attack. Analogy: Read the story called Snow Queen and explain how the queen attacked Kay.