Everyone likes to cook something yummy in the kitchen. It's even tasty eating it!  Here is an easy Egg Muffin recipe for you to try.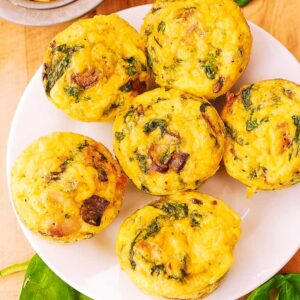 Ingredients
Nonstick cooking spray
1 dozen eggs
1 teaspoon creole or sea salt
1/2 cup spinach or green pepper(optional)
1/2 cup thinly sliced mushrooms (optional)
1/4 cup onions (optional)
1/2 cup shredded cheese (optional)
1/2 cup bacon bits
Directions
Preheat the oven to 375°F. Crack eggs into a liquid measuring cup. Whisk the eggs and Creole.
Pour egg mixture in silicone muffin cup with a little cooking spray on the bottom. Divide remaining ingredients and carefully pour over tops until muffin cups are almost full (leave 1/4-inch space).
Bake for 25 minutes or until a wooden pick inserted in the center of a muffin comes out clean. The egg muffins will look like soufflé when they come out of the oven, but they will sink after a few minutes. Let them rest in the muffin tray for a few minutes before using a rubber spatula to carefully remove each muffin.
Eat this yummy food immediately or let cool and transfer to a resealable plastic bag. Refrigerate for up to a week or freeze for a month.
Homeschoolers: Read the story of Tom Kitten and describe Tabitha's menu. Safely cook something yummy to eat.