Ever go to the movies? Everyone loves the Mario Brothers! Right?  If you haven't seen it yet, check it out! Adventure, fun, and family friendly entertainment. Great animation with outstanding voice actors and actresses to boot!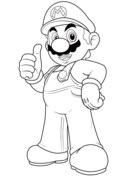 Stars: Chris Pratt, Anya Taylor-Joy, Charlie Day, Jack Black
Genre: Animation, Adventure, Comedy
Release Date: 2023-04-07
A Brooklyn Plumber named Mario, travels through the Mushroom Kingdom. He is accompanied by a Princess named Peach and an Anthropomorphic Mushroom named Toad. Their goal is to find Mario's Brother, Luigi, and to save the world from a ruthless fire breathing Koopa named Bowser. Yikes!
Homeschoolers/Educators/Parents
: sketch/color an illustration and label it. Theme: adventure. Listen to the audiobook story "
T

he Flying Trunk
" in
Learning to Read: Fairy Tale Adventures
. Write and say the word "adventure" five times so you can pronounce and spell it correctly. Put these words in alphabetical order: adventure, trees, sky, mysterious, magic, princess. Use each word in a sentence. List two ways to safely go on an adventure. Compare and contrast what happens to the princess in The Super Mario Brothers Movie and The Flying Trunk. (Skills: identify, comprehend, apply, organize, creative, affective, analyze, synthesize.)