Looking forward to spring and warmer weather? Try this "Coconut Rice" recipe. Coconut rice is a Thai style rice. Begin by bringing the milk, water, and rice all to a boil together. Replacing half of the water with coconut milk makes the rice slightly sticky and much more flavorful. You will want to eat this coconut rice with everything!
YIELDS:6 SERVINGS
PREP TIME: 10 

MINS

TOTAL TIME: 40 MINS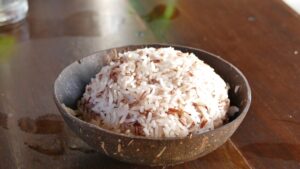 INGREDIENTS
2 cups long grain rice, rinsed and drained
1 (14-oz.) can coconut milk
1 1/2 cup water
1 tbsp. granulated sugar
2 tsp. salt
DIRECTIONS
In a large pot over medium heat, combine rice, coconut milk, water, sugar, and salt. Bring to a boil, then reduce heat, and let simmer, covered, 18 to 20 minutes or until rice is tender.
Remove from heat and let sit 10 minutes, then fluff with a fork.
Enjoy!
So, Homeschoolers: sketch an illustration and describe coconut rice. Read the story of what Benjamin Bunny ate for dinner!