Sometimes we just need music to give us that extra spiritual lift. The song Onward Christian Soldiers can do just that. What amazing words of strength, integrity, and devotion to God are found in this beautiful church hymn. Music is a talent we can share with others. Did you know that –
William James Gaither is an American singer and songwriter of Southern gospel and contemporary Christian music
He has written numerous popular Christian songs and arrangements with his wife Gloria such as Onward, Christian Soldiers
Bill is also known for performing as part of the Bill Gaither Trio and the Gaither Vocal Band
Here are the words to that glorious Christian song –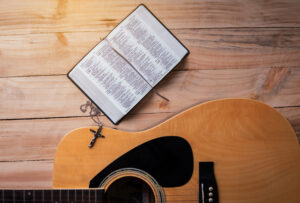 Onward, Christian Soldiers!
Marching as to war,
With the Cross of Jesus
Going on before.
Christ, the Royal Master,
Leads against the foe.
Foward into battle,
See His banner go!
Devotionals/Homeschoolers: Sketch/color an illustration. Finish this sentence: Music helps… Read the story called The Talents. Write about one of your talents.