Never, ever give up!  This is some great advice I received from my father many years ago. Think only you have challenges? Well, you are not alone! You are correct if you think that out of every ten people you meet, one-half of them currently have problems and challenges in life.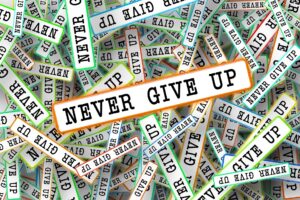 Life got you down?
Not enough money?
Relationship troubles?
Opportunities not coming soon enough?
Health not getting better fast enough?
Still trying to overcome something?
Scared of trying?
Afraid of the future?
Guess what? Most people, even those with the smiling faces and bright, white shiny teeth, have challenges in life!! Never, Ever Give Up!!!!
Homeschoolers: Sketch/color an illustration. Explain the benefits of not giving up. Theme: Perseverance. Analogy: Read the story called The Frog Prince and explain how the Frog Prince did not give up.