Holy Week is the week before Easter and begins on Palm Sunday. This is when we celebrate Jesus' entrance into Jerusalem in the same way the crowds are described waving palms and singing Hosanna in all four Gospels. We can share these truths: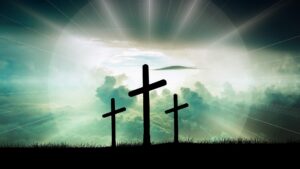 Easter is April 4, 2021
Easter is the celebration of the Lord's resurrection from the dead
Easter is when we try to show extra appreciation to God for the sacrifice of His Son
1 Peter 1:3  (New Testament) – Blessed [be] the God and Father of our Lord Jesus Christ, which according to his abundant mercy hath begotten us again unto a lively hope by the resurrection of Jesus Christ from the dead.
Devotionals/Homeschoolers: Sketch/color an illustration. Read the story called "Jesus is Crucified" and retell it.