God asks us to follow Him. How can we follow God?  There are many different ways to do this. Jesus invites everyone to follow Him. We can follow in His footprints. Today we can take the first step to better follow Jesus.  Let's read this inspirational Footprints of Jesus poem: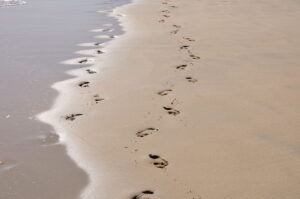 Sweetly, Lord, have we heard Thee calling,
Come, follow Me!
And we see where Thy footprints falling
Lead us to Thee.
Refrain:
Footprints of Jesus,
That make the pathway glow;
We will follow the steps of Jesus
Wherever they go.
Though they lead o'er the cold, dark mountains,
Seeking His sheep;
Or along by Siloam's fountains,
Helping the weak.
If they lead through the temple holy,
Preaching the Word;
Or in homes of the poor and lowly,
Serving the Lord.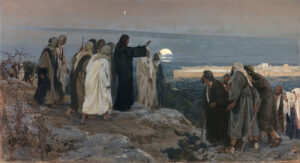 Though, dear Lord, in Thy pathway keeping,
We follow Thee;
Through the gloom of that place of weeping,
Gethsemane!
If Thy way and its sorrows bearing,
We go again,
Up the slope of the hillside, bearing
Our cross of pain.
By and by, through the shining portals,
Turning our feet,
We shall walk, with the glad immortals,
Heav'n's golden street.
Then, at last, when on high He sees us,
Our journey done,
We will rest where the steps of Jesus
End at His throne.
John 12:26 (New Testament)
"If any man serve me, let him follow me; and where I am, there shall also my servant be. If any man serve me, him will my Father honor."
Devotionals: sketch an illustration and list how we can better follow Jesus.