Happy Cinco de Mayo, the fifth of May!  Hurray for the Battle of Puebla which led to Mexico's independence. One fun way to celebrate this special day is to watch the movie "Coco". The movie "Coco" celebrates Mexican folklore with a fantastic visit to the Land of the Dead. The film's hero, twelve-year old Miguel Riviera, wants to play his guitar. This pursuit takes him on a journey to find out the real story of the disappearance of his great-great grandfather.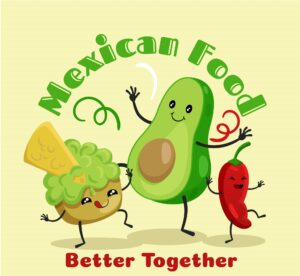 Another way to celebrate this day is to enjoy some of Mexico's favorite foods. You can eat out or make these foods with easy recipes for guacamole, tacos, quesadillas, grilled street corn, and tamales.
No Mexican fiesta is complete without a piñata. Allow time to break the piñata so the kids can enjoy this fun activity and once it's broken, collect the candy that falls out of it.
Homeschoolers/Educators/Parents: Sketch/color an illustration. Theme: adventure/celebration. Put these words in alphabetical order: Mexico, independence, tacos, guacamole, corn, tamales, family, Cinco, piñata. Compare and contrast Tom Thumb's adventures (Learning to Read: Favorite Fairy Tales) with Miguel's adventures. Write down your favorite Mexican food and tradition. Rewrite the ending. Play your favorite Mexican game. (Skillset: creativity, identify, main idea, summary, apply)