Who Am I? I am one of the most discussed Jewish victims of the Holocaust, gaining fame posthumously with the publication of a diary which became a book. I was born on June 12, 1929 and died in February 1945.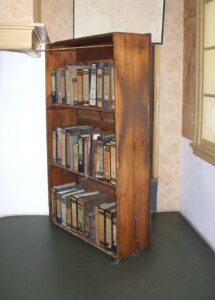 The Secret Annex is where I documented my life in hiding from 1942 to 1944, during the German occupation of the Netherlands in World War II. My father was Otto Frank. As persecutions of the Jewish population increased in July 1942, the Franks went into hiding in some concealed rooms behind a bookcase in the building where Otto Frank worked.
Who Am I?
Edith Frank, Anne Frank or Margot Frank
Homeschoolers: draw/color an illustration and write your observations of this historical event.