Around 985 BC, David who lived in Israel, was a young shepherd taking care of the sheep in his flock. David made sure the wolves would not devour his sheep. David took his sheep to pastures where they could eat well and find water to quench their thirst. At nighttime, he led them to safe places to sleep.
In Psalm 23, David tells us that God is the good shepherd. What is a good shepherd? Symbolically speaking, David compares God to a shepherd because He also watches over His followers. A shepherd describes a close and devoted relationship. A shepherd cares deeply not only for all his sheep as a whole, but also for each and every single one.  He is our protector and knows us by name. God knows everything about you-your thoughts, words, actions and potential. God feeds us through His word and the Holy Spirit. He will lead and guide you. God wants you to hear Him.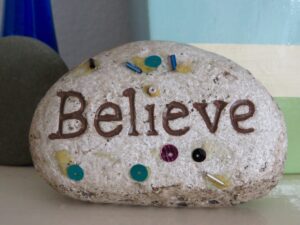 Old Testament: Psalm 23
1 The Lord is my shepherd; I shall not want.
2 He maketh me to lie down in green pastures; he leadeth me beside the still waters.
3  He restoreth my soul: he leadeth me in the paths of righteousness for his name's sake.
4 Yea, though I walk through the valley of the shadow of death, I will fear no evil: for thou  art with me; thy rod and thy staff they comfort me.
5 Thou preparest a table before me in the presence of mine enemies: thou anointest my head with oil; my cup runneth over.
6 Surely goodness and mercy shall follow me all the days of my life: and I will dwell in the house of the Lord for ever.
Homeschoolers: draw/color an illustration and write these Bible verses in your own words.