Do you know the definition for the word of the day which is "Ramadan?"
Pronounced: /rä-mə-ˈdän/
What is Ramadan?  This is when Muslims around the world fast during the holy month of Ramadan.  Other fun facts: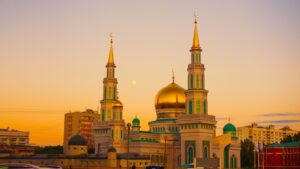 This year, Ramadan started on the evening of Monday, April 12th
The Islamic holy month is always held on the 9th month of the Islamic Lunar calendar
Since the calendar depends on the moon cycle, Ramadan falls about 11 days earlier each year
This is when Muslims abstain from food, drink and water
when the sun sets, there is a communal meal
This is a time set aside to remember to do good deeds
Wishing Ramadan Mubarak to our friends observing the holy month of Ramadan!
Homeschoolers: Sketch/color an illustration. Read the story "Jesus is Tempted". Retell the story of when Jesus fasted and prayed.