The Automats are updated and back! What is an automat? Customers can place their coins or credit card in a window of a vending machine, to purchase their sandwiches, soups or pies, in a very relaxed atmosphere. Other fun facts: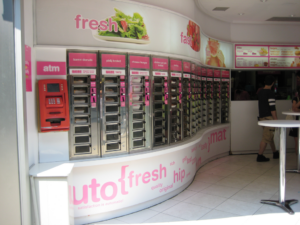 They offer comfort foods such as pot roast or mac and cheese
The world's first automat was named Quisisana, which opened in Berlin, Germany in 1895
The first automat in the U.S. was opened June 12, 1902
The first machines in the United States only took nickels
Customers can order food in advance online or via the restaurant's app and then pick it up from the locker
Automats are like vending machines for hot food
Some automats use pre-made food while others make food to order
Newer dishes include seared Atlantic salmon, chicken parmesan sandwich, and burritos
The concept is viable with institutional dining, in airports, highway stops, and college campuses
KFC and Smashburger are now using updated automats
Homeschoolers: Sketch/color an illustration. List the pros and cons of dining with automats. Read the story "Benjamin Bunny" and describe what Benjamin Bunny brings home for dinner.