Since sugar was rationed and in short supply during the Great Depression (1929-1939), confectioners sugar was used instead. This delicious Potato Candy recipe was easy and quite popular. Potato flakes were invented around 1954.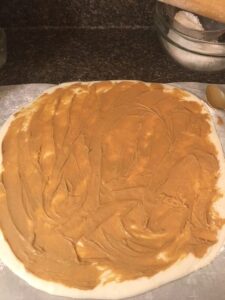 Ingredients:
1 cup mashed potatoes (or substitute instant potato flakes)
1/4 cup water
1 tablespoon vanilla extract (optional)
1/2 cup peanut butter
1 (16 oz.) box confectioners sugar
Directions:
Combine the mashed potatoes and vanilla extract in a mixing bowl. (Or you can add potato flakes with the water, and beat until the mixture looks like thick mashed potatoes.) Start adding the confectioners sugar a little at a time until the mixture can be formed into a ball. Spread out on a wood cutting board. Flatten the dough with your rolling pin into the shape of a rectangle. Cut the flattened dough in half so it easier to work with. Put onto parchment paper. Spread the peanut butter on the dough. Roll up like a jelly roll. Cut into slices about 1/4 inch thick. Chill in refrigerator for one hour. Enjoy!
Homeschoolers: draw/color an illustration and record your observations of this historical recipe.