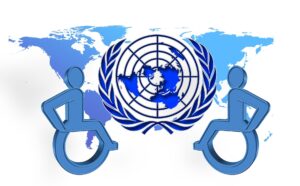 Let's help each other! What better day than December 3rd which is National Disability Day. This is a time to raise awareness about the challenges faced by people with disabilities. Let's be aware of these challenges and work with children and people with different abilities. For example, please do not park in the the treasured parking spaces right in front of the pharmacy that is reserved for those that need to be closer to the store entrance. And the sloped curbs at intersections with the textured mats in place are there so the vision impaired folks can feel the curb end. It's there to make life a little easier for a person with disabilities.  Let's become more compassionate and understanding of the challenges faced by people with disabilities. How can we do this? We can:
Become an advocate for people with disabilities
Lend a helping hand
Show some compassion
Homeschoolers: draw/color an illustration and describe the significance of this historical and current event.