Let's stay healthy. We all want to be healthy, strong, and fit. So, let's follow some of the clever ideas we have been taught such as eating healthy foods, getting exercise, drinking plenty of water, going to bed early, and finding time for wholesome recreational activities. Let's read the labels the FDA (Food & Drug Administration) puts on food and other products. The FDA in the United States was created to help protect the public health. Did you know? Here is the stated mission of the FDA below: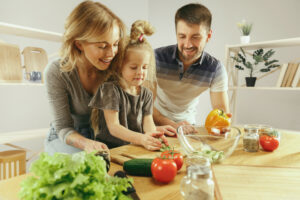 The Food and Drug Administration is responsible for protecting the public health by ensuring the safety, efficacy, and security of human and veterinary drugs, biological products, and medical devices; and by ensuring the safety of our nation's food supply, cosmetics, and products that emit radiation.
We are thankful for the FDA and all those who serve in the medical profession. Let's practice reading the labels on food and other products on a regular basis to make the best choices.
Homeschoolers: sketch/color an illustration. Theme: food. Read the exciting story called "Hansel & Gretel" in Learning to Read: Favorite Fairy Tales. Describe what Hansel & Gretel ate. Write about your favorite healthy food.