Container ships are again waiting off the California coast. As of August 31st, forty-six container ships are lined up at sea, waiting to enter the ports to unload their products. Here are some more fascinating facts. Did You Know?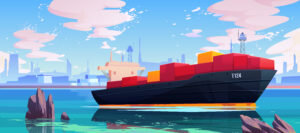 The California ports are key to importing goods from China
The California ports account for about one-third of all US imports
The delays are causing a few shortages
Automotive trade volume for the port of LA in 2020 was 103,453
Automotive trade volume for the port of LA in 2019 was 127,042
The ships carry popular imports such as furniture, auto parts, clothes, electronics, toys, and plastics
You can beat this supply-chain crisis by ordering your Christmas gifts ahead of time
Homeschoolers: Sketch/color an illustration. Theme: products/gifts. Subtract the 2020 trade volume from the 2019 trade volume. Finish this sentence: All I want for Christmas is… Read the story called The Little Match Girl. Write about her Christmas adventures.