What is Columbus Day? Let's review history today. Christopher Columbus is an early Italian explorer that discovered America for Spain in 1492. Did you know?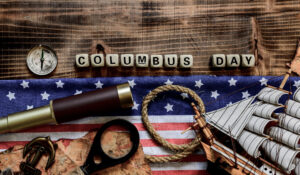 Columbus Day is a federal holiday in the United States
Columbus Day celebrates the anniversary of Christopher Columbus's arrival in the Americas on October 12, 1492
This day also helps recognize contributions of Americans of Italian descent
Columbus Day is the second Monday in October each year
The flag of the United States is displayed on all government buildings on Columbus Day
This day is observed by banks, the bond market, the U.S. Postal Service, other federal agencies, state government offices, businesses, and most school districts
Columbus was an Italian explorer and navigator
In 1492, he sailed across the Atlantic Ocean from Spain in the Santa Maria, with the Pinta and the Niña ships alongside, hoping to find a new route to India
On October 12, 1492, after 36 days of sailing westward across the Atlantic, Columbus and several crewmen set foot on an island in the present-day Bahamas
On this day, Columbus planted the flag of his sponsors, King Ferdinand, and Queen Isabella of Spain in the new land (the continent of North America)
Homeschoolers: sketch/color an illustration. Theme: Discovering new places. Finish this sentence: I want to go to …. List three facts about this day. Read the story called The Flying Trunk in Learning to Read: Fairy Tale Adventures. Write about Sven's many adventures while flying around the world.