Most people go to the grocery store to buy food to make meals to eat at home. Guns are useful for hunting wildlife for food, not hurting people. While most people are responsible citizens, we still need to be aware of our surroundings. We can use this as a teaching moment for our loved ones. Let's also pray for the recent victims of the Boulder Colorado mass shooting
Here are a few things you can do to help keep yourself and your loved ones safer while shopping in a public store. Consider: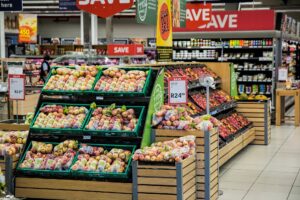 Looking at the layout of the store when you first enter the store
Notice those who pass by you — the position of their shoulders, neck and eyebrows
Notice if they are carrying anything besides a wallet or purse
Check if they are walking faster or slower than normal
Notice if they are staring at others
Check if they are loitering in one place
Know where the bathroom and all exits are located
Let's pray for our families, freedoms and country! Stay safe!
Homeschoolers: sketch/color an illustration. Read the story of how Flopsy Rabbit kept her family safe from the badger. List what you can do to stay safe in public places.