Summertime means pool party time! Do you want to go swimming this summer? I do! There are plenty of public pools and even swimming clubs. For beginners here are a few tips –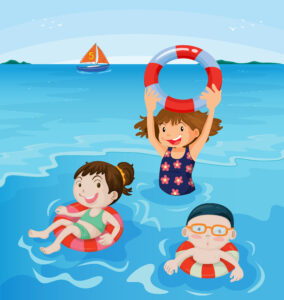 Make sure you know how to swim
Choose a safe environment
Have plenty of fluids on hand and drink regularly
Walk, don't run
Stay away from pool drains
Find a swim partner
Play fun water games

.
Enjoy this fun word search called "Pool Party Time." Word searches develop spelling skills, extend vocabulary, and emphasize pattern recognition. Find all the hidden words! Enjoy replaying one of your favorite word searches. Each time you replay it, the words are reordered to make it more challenging.
Word Search Instructions:
1. To view vocabulary words in the boxes below the puzzle, click on each box.
2. To play, click on the first letter of the word and then click on the last letter of the vocabulary word to highlight the entire word in the puzzle.
3. Words may be found going forward, backward, up, down, or diagonally.
4. After each vocabulary word is found, each word in the box will have a slash through it if clicked on.
5. Once you have completed the word search, a message will say "CONGRATULATIONS! YOU WIN!"
6. Have fun!
Mobile version may vary. (Word Box: swimming, water, beach, sun, fun)
Devotionals/Homeschoolers: Sketch/color an illustration. Finish this sentence: When I go swimming… Theme: water adventures. Read the story called Frog Prince and describe the frog's water adventures!✍️