Let's make delicious blue milk to drink! Luke Skywalker has been drinking blue milk since 1977's "A New Hope." "Star Wars" fans can try the drink for themselves as one of the food items at Disney parks' Star Wars: Galaxy's Edge land. We fell in love with it at Disney World! Imagine you are going to Disney today on a flying trunk. Here's the secret recipe: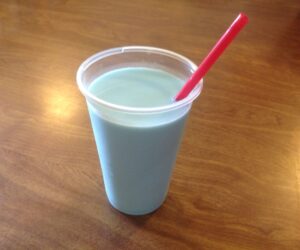 1 cup low-fat milk
1/2 cup blueberries (fresh or frozen)
Blue food coloring
2 teaspoons sugar
4 ice cubes for thickness
Place all ingredients in a blender and process until smooth. Pour into glasses and drink immediately while cold. Enjoy!
Homeschoolers: Sketch/color an illustration. Make blue milk and write about it. Theme: adventure. Analogy: Read the story called The Flying Trunk and describe where Sven went on his magic trunk.