We are blessed with the gospel. Today there is so much confusion and strife in the world. We are blessed to have the gospel of Jesus Christ which unites us even as we are each so quite different from one another. Our differences can be an obstacle or a strength. When we focus on the gospel it can heal the wounds, we are trying to overcome.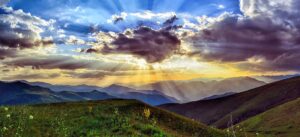 Mark 1:1-2 (KJV)
1 The beginning of the gospel of Jesus Christ, the Son of God.
2 As it is written in the prophets, Behold, I send my messenger before thy face, which shall prepare thy way before thee.
Homeschoolers: Sketch/color an illustration. Read the story called "The Sermon on the Mount" and describe the gospel of Jesus Christ.