Yummy, yummy in my tummy! Christmas is about Jesus' birth, family traditions, new traditions, and delicious food! Well, here is my newest recipe I recently discovered. These mincemeat cookie bars are so tasty they can even replace fruitcakes! See below for our secret recipe –
Mincemeat Cookie Bars
 TOTAL TIME: Prep: 15 min. Bake: 35 min. YIELD: 2 dozen.
Ingredients
2 cups whole wheat flour
1 cup sugar
1/2 teaspoon baking soda
1/2 teaspoon salt
1/2 cup margarine
1/4 cup 2% milk
1 jar (28 ounces) prepared mincemeat
1 cup chopped pecans or other nuts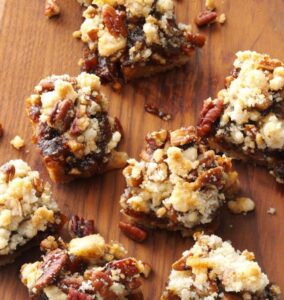 Directions
1. Preheat oven to 400°. Line an 8-in. square baking pan with foil; grease foil with margarine. In a large bowl, whisk flour, sugar, baking soda and salt. Stir in margarine and milk. Reserve one cup for topping. Press the remaining crumb mixture onto bottom of prepared pan. Spread with mincemeat. Stir nuts into reserved crumb mixture, sprinkle over top. Bake for 35 minutes or until golden brown.
2. Cool completely. Refrigerate. Cut into bars.
Homeschoolers: sketch/color an illustration. Theme: Delicious food. Finish this sentence: Read the story called Little Red Hen in Learning to Read: Favorite Fairy Tales. What did the Little Red Hen bake? Finish this sentence: My favorite holiday dessert is…….